Art and Culture of India has attracted the world from the beginning of time and these two are major bonding elements which unite India, in spite of vast diversity observed by different regions, communities and people in general.
Culture of India
As we were discussing earlier, India has attracted the world for centuries. This is one primary reason for India having such a diverse culture. People from all over the globe came to India and settled here. The अतिथि देवो भवः (Guest is God like) culture held many other civilizations back here and they blended with original culture and civilization. For reading more on different civilizations that existed in India, please read History of India. Now, due to such vastness, varieties and depth in Indian Culture, its not possible to give it a single name or define in few words. We will discuss different aspects of Indian Culture below:
Festivals of India
Indian festivals are perhaps the most popular, diverse and celebrated culture of India. Each and every community and region in India has its own traditions and cultures, we will try to celebrate as much as possible 🙂
Festival
Makarsankranti / Pongal
Vasant Panchami
Maha Shivaratri
Holi
Hindi New Year
Telugu New Year / Ugadi
Tamil New Year
Baisakhi / Vishu
Bengali New Year
Ramanavami
Hanuman Jayanti
Akshaya Tritiya
Savitri Pooja
Puri Rath Yatra
Guru Purnima
Nag Panchami
Raksha Bandhan
Krishna Janmashtami
Ganesh Chaturthi
Onam
Pitr-paksha Begins
Pitr-paksha Ends
Navaratri Begins
Durga Puja Begins
Navaratri Ends
Dusshera
Lakshmi Puja
Karwa Chauth
Dhan Teras
Diwali
Kartik Poornima
Diwali / Deepavali (

दीवाली  / 

दीपावली 

) – The Festival of Lights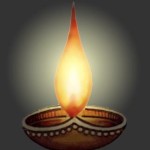 Diwali is the festival of lights which is  not only celebrated in India but also in Nepal, Sri Lanka, Myanmar, Mauritius, Guyana, Trinidad & Tobago, Suriname, Malaysia, Singapore and Fiji. The festival is a major Hindu festival but the whole India celebrates it with equal enthusiasm and warmth by lighting lamps all over their homes, shops and institutes. It is believed as per Hindu mythology that lord Shri Ram returned after his 14 years of exile with Sita nd Lakshman after defeating Ravan. To celebrate their return , the people of Ayodhya lit lamps all over the city. This became Tradition since then.
Meaning of Diwali: Diwali (दीवाली ) has been derived from Sanskrit word Deepavali (दीपावली ). Deep(दीप ) means lamp of clay filled with oil(like the one in picture on left) and Avali (आवलि ) means Row. So Deepavali means row of lamps. These lamps are kept on during the night and one's house is cleaned, both done in order to make the goddess Lakshmi feel welcome. Firecrackers are burst because it is believed that it drives away evil spirits.During Diwali, all the celebrants wear new clothes and share sweets and snacks with family members and friends.
In most of the Indian regions , Diwali is a 5 day festival which starts on Dhanteras, celebrated on the thirteenth lunar day of Krishna paksha (dark fortnight) of the Hindu calendar month Ashwin and ends on Bhaubeej, celebrated on second lunar day of Shukla paksha (bright fortnight) of the Hindu calendar month Kartik. Dhanteras usually falls eighteen days after Dussehra. In the Gregorian calendar, Diwali falls between mid-October and mid-November.
The festival starts with Dhanteras on which most Indian business communities begin their financial year. The second day of the festival is called theNaraka Chaturdasi. Amavasya, the third day of Diwali, marks the worship of Lakshmi, the goddess of wealth. The fourth day of Diwali is known as Kartika Shudda Padyami. The fifth day is referred to as Yama Dvitiya (also called Bhai Dooj), and on this day sisters invite their brothers to their homes.